Drinking Hungarian Wine in Budapest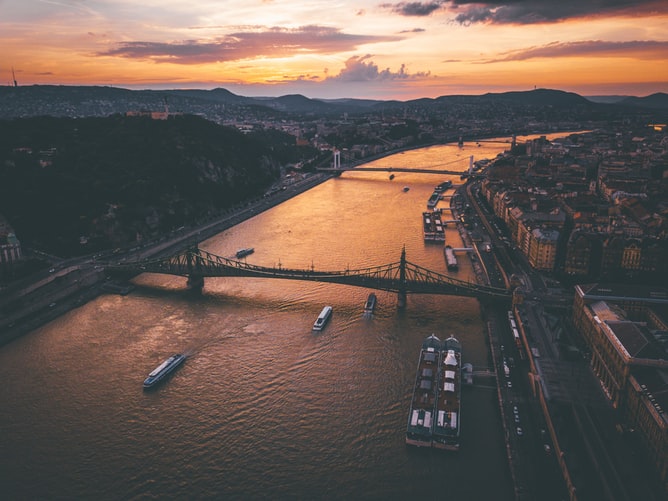 We hadn't visited Budapest until relatively recently, and we already want to go back. Like so many European cities, the origins of Budapest can be traced back to the Romans, yet it was during the Middle Ages where the Hungarian capital really came into its own. As a capital city and a bastion of culture during the Renaissance, Budapest's fortunes then waxed and waned during progressive wars and take-overs, starting in the 16th century and not really concluding until the mid 20th. To visit Budapest today is to mix that past together with a very bright future, and a lot of very good wine along the way.

Ah yes, wine! Budapest is increasingly becoming known as a destination for wine lovers and why not? The Hungarians like to drink and only 20% of their production ever leaves the country, with the rest consumed locally. Sat centrally in the north of the country, wine trips are possible in every direction and whilst there aren't many famous vineyards on the doorstep of the city, it's worth heading out into the green countryside in pursuit of some truly delicious wine. That, and the city itself is full of roof-top bars, wine shops and hidden gems just waiting to be discovered. What are you waiting for? To Budapest!


Wine Trips from Budapest
Budapest isn't a city with a great deal of urban vineyards; the majority of trips to wineries are fairly lengthy, but that doesn't mean they're not worth taking. Hungarian wine rarely breaks into the mainstream internationally, aided by the fact that only 20% of their wine is ever exported, with much of the very good stuff drank locally in Hungary. Hire a car, get your bearings and off you go!
The Region – Eger
90 minutes away from Budapest lies the gorgeous countryside of Eger; Hungary is largely flat so these gently rolling hills are quite steep by local standards! This region is full of history and stories, including the so-called 'Bulls Blood' Bikaver wine that helped the defenders defy an army of Turks. The region is one of Hungary's coolest and so, despite the historical reputation of their red wines, it's the white that we found particularly interesting here!
The Winery – Toth Ferenc
The term 'new meets old' is often overused in the world of wine, yet it applies very strongly to this ambitious, family ran winery! Toth Ferenc has existed since the 1980s, originally starting with nothing, and have gradually grown to a respectable, 25 HA estate. A champion of the indigenous Kadarka grape, and the sort of wine-maker to always be seeking new challenges, it comes as no surprise to find that the estate has won a whole slew of awards, including the much-vaunted 'Hungarian Winemaker of the Year' in 2013.
The Wine – Egri Csillag Superior
We didn't try a bad wine when we visited Toth Ferenc, but the wine that appealed the most was a remarkable white blend of 5 different varieties, led by Olaszriesling and strongly influenced by the aromatic Harslevelu. Aromatic and textured, with a really lovely, delicate spice to it and no lack of freshness; we brought a few bottles home in our own
Lazenne Wine Check
!
The Region – Mór
In the opposite direction lies the relatively unknown but very exciting region of Mór, a northerly outpost of indigenous Hungarian grapes and home to probably the best white wine we tasted during our entire trip! Mór itself is incredibly picturesque, running as a valley between two mountain ranges and full of beautiful scenery and lovely little towns, dotted throughout. Better yet, it's home to Ezerjo, one of Hungary's own grape varieties with a very high quality potential indeed!
The Winery – Csetvei Pince
Do you ever visit a winery and get an immediate sense that something good is in store? This is the feeling you get when visiting Csetvei Pince, owned and managed by the irrepressible Krisztina Csetvei. A first generation wine-maker and self-made woman, Krisztina makes a broad variety of different wines, including some of the best sparkling we've tried from Hungary, but it's her intuitive touch and feel for the indigenous grapes of the regions that makes her stand out. Dug into the rocks of Mór, her small, charming winery is home to a broad variety of wines, including a personal project that we think might just be our best discovery in some time....
The Wine – Ezerjo 'H'
Towards the rear of the winery, tucked away in a corner, is a wonderful little project ran by Krizstina, comparing the indigenous Ezerjo grape from the same plot of land, vinified in two different ways; one in Hungarian oak and the other in amphorae. Both are delicious but the Hungarian oak vinification is quite special; effortless energy, tangy acidity and just the more persistent, stone-fruited and citrus flavours. A special wine and exactly the sort of reason we go travelling; you'll never find this outside of Hungary!
The Region – Lake Balaton
Lake Balaton is something of an attraction in Hungary in its own right; the largest lake in Eastern Europe and surrounded by beautiful countryside and spa resorts. The moderate temperatures of the lake almost makes for some very interesting vineyard sites around it, and a lot of different styles of wines are made in the surrounding regions. Better yet, at less than 90 minutes from Budapest this makes for a great trip out for the day, whether you're visiting wineries or not!
The Winery – Kristinus
A modern, sleek winery, Kristinus has everything you could want for a balanced, wine focused trip. There's a luxury hotel attached for anyone who wants to stay the evening, an innovative kitchen preparing lunch and dinner, and of course, the winery itself. Kristinus focuses on a combination of indigenous and international grapes, aided by the help of some truly world class consultants. Whilst the Kekfrankos was quite delicious, our favourite wine was, again, on the paler end of the spectrum....
The Wine – Utopia
Making a top quality wine from different grape varieties is always a challenge and the best blenders in the world usually manage it through years and decades of experience. Sauvignon Blanc, Chardonnay and Pinot Gris come together in Utopia, to create a balanced, tropical yet restrained wine that blew us away. It's also very affordable too and a great example of the sort of ambitious, international wine that can be produced from these lesser known regions. It went fantastically well with a chicken and cream dish, too!


Wine Bars and Wine Shops in Budapest
Whilst the countryside is well worth exploring, the city centre of Budapest is a really interesting zone for wine lovers, with various bars, restaurants and shops that are worth exploring. From a roof-top view of Budapest with a glass of excellent dry Furmint to rooting around amongst bottles you've never seen before, and may never again, there's a lot to be said for the wine scene in Budapest!
Bródy Sándor utca 9, Budapest 1088
Tasting Table isn't a wine bar and it isn't a shop, so why's it in this section? Honestly, because it's possibly the single greatest wine experience we've had in Hungary and the idea is brilliant. Inside a beautiful tasting room in central Budapest, Taste Hungary put together events that brings wine-makers directly to the table, to serve their wines and offering the sort of insights you'd normally only get whilst visiting the winery directly. The quality of the charcuterie is superb and should you want to branch out? No problem. There are themed flights and the sommeliers on hand are always happy to chat and guide you through the nuances of Hungarian wine. Tasting Table is our top pick for wine experiences in Budapest!
St Andrea Wine and Skybar
Budapest Deák Ferenc utca 5 Váci 1. Office Building Rooftop, 1052
Budapest is beautiful, both in terms of culture, history and architecture, and what better way to experience the latter than at a high-end rooftop bar, overlooking the city? St Andrea Skybar is owned by the winery of the same name, producing high quality wines in different regions, yet it's also home to one of Budapest's best wine lists including some much-vaunted international names. Tangy, broad Furmint and a salmon and cucumber salad? That's our kind of lunch!
Kadarka
Budapest, Király u. 42, 1061
Located in the beautiful Jewish Quarter of Budapest, it's somewhat amazing that Kadarka is still as local and popular as it's always been, unchanged by the changes around it. Named after the ethereal, rare Hungarian grape variety, Kadarka is still one of the very best spots in the city to discover Hungarian wine and includes some experimental projects not found elsewhere. The cold meats and cheeses are the perfect compliment to the wines served and, as with any good wine bar, put yourself in the hands of your sommelier! They never steered us wrong, once.
Drop Shop
Budapest, Balassi Bálint 27, 1055
Whilst technically also a wine bar, we enjoyed Drop Shop most as a wine shop, with one of the most eclectic and interesting selections of wines in all of Budapest. You can see the attention to detail here, as well as the adventurous spirit of the place and if we lived in Budapest, this would also be where we came to buy international wines! The beauty of having a bar attached to the shop, of course, is that you can often try before you buy! If you're looking to experience artisanal Hungarian wine producers, you've come to the right place.
Bortársaság
Batthyány utca 59, Budapest 1015
Bortársaság (what a name!) is the largest distributor of Hungarian wine in Budapest and whilst you can find various shops across the city, the flagship store is on Batthyany Street and an absolute treasure trove of local wines. This is the sort of store you can lose yourself in for hours, gazing at wines you never even knew existed, and trying to dig into every nook and cranny. Help is on hand from their attentive staff, should you want it, though they know as well as anyone that discovering Hungarian wine is as much about personal discovery as recommendations! If you go here, make sure you can bring some serious wine back with you or you'll end up kicking yourself!


A Guide to Hungarian Grapes
Indigenous Hungarian grape varieties tie people in knots, and it's no surprise! With long, difficult to pronounce names, even wine students shudder when it comes to studying Hungarian wine. Fear not though, for help is at hand! Whilst there are a plethora of indigenous grapes in Hungary, the following is a list of the most relevant and, from our perspective, the most interesting. We hope it helps in opening up the world of Hungarian wine to you!

White Grapes

Furmint: A white grape and arguably the flagship grape variety of Hungary, Furmint is probably best known for its role in Tokaji production, where it balances the rich, sweetness of the wine with its characteristic acidity. Some really top, dry Furmints are now being produced and both Tokaji and Somlo are competing at the highest levels with their best wines.

Hárslevelű: The other interesting grape of Tokaji, and an absolute nightmare to spell! Hárslevelű is more aromatic than Furmint and contributes these minty, floral characters to Tokaji but like Furmint, it's increasingly an interesting option as part of dry wines as well.

Juhfark: A wine with a rather fun name, and a huge quality potential. Most of Juhfark is found on the volcanic soils of Somlo where it really picks up a lot of its character. Juhfark is known as being quite uncompromising, with very high levels of alcohol, acidity and flavour, and the very best can last for decades.

Ezerjo: A very difficult grape to find outside of Hungary and one worth hunting down whilst you're there. The characteristically low levels of alcohol and high levels of acidity make Ezerjo a naturally light, delicate style of wine though, as soon as Csetvei Pince, it can be used to make truly world class wine in the right hands.

Red Grapes

Kadarka: Kadarka is a truly interesting grape in Hungary; historically disadvantaged because of its fickle nature and difficulty to grow, high quality producers are now starting to see the huge potential of the grape. Grown across Hungary, Kadarka really comes into its own in Eger where it's often to be found in Bikaver blends. With barely 700HA planted across the entire country, this is a rarity not to be missed!

Kekfrankos: Also known as Blaufrankisch in neighbouring Austria, Kekfrankos is arguably Hungary's most important red grape. It can often be found in blends but varietal Kekfrankos is far more interesting, where its delicate herbal and red fruit characters really shine through. The best producers make some of Hungary's most nuance, interesting wines with Kekfrankos.

Cabernet Franc: Whilst not an indigenous grape variety to Hungary, Cabernet Franc is of increasing importance and, in Villainy to the south, it reaches its apogee in Hungary, where it's often known as 'Villainy Franc'. If you're a Cabernet Franc fan, we think you'll be amazed by just how good some of these wines are in Hungary!

Portugieser: Whilst much Portugieser is produced as a simply, easy-drinking red, there are a few really interesting examples to try from across the country. The best can be so bright-fruited as to be akin to really good Beaujolais, and makes for wonderful summertime drinking!

We enjoyed our trip to Budapest enormously and learnt a great deal about Hungarian wine. We hope this guide serves as a useful tool for your own vinous adventures there and as always, stay curious! Cheers to more wine travel adventures.
For more information on how to travel with wine, check out the links below: